The Face » Facial Aesthetic Surgery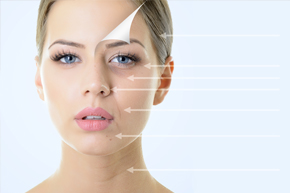 Various facial aesthetic treatments can vastly improve our confidence, leaving us feeling comfortable in our own skin and happy when we look in the mirror. Mr Aakshay Gulati offers a variety of aesthetic treatments, including wrinkle removal, fillers and cheek and chin implants, amongst others. Read on to find out more about the individual aesthetic treatments offered, or call today to book in for a consultation...
Wrinkle removal
As we become older, our skin ages along with us. Although wrinkles are a perfectly natural sign of ageing, many of us don't like the appearance of them and often would like them reduced.
Botulinum Toxin type A, more commonly known as botox, is an increasingly popular procedure which helps to minimise the appearance of wrinkles. It works by injecting a fine needle into certain muscles in your face and neck thus reducing the muscle activity, causing the lines and wrinkles to soften.
Wrinkle removal usually lasts around 3 to 4 months, with little side effects apart from some swelling and bruising. The results are quick and noticeable, helping you to achieve your desired look.
Fillers
Fillers are the perfect way to help add plumpness and definition to areas on your face. They can help to revitalises your look and appearance, allowing your skin to appear smoother and rejuvenated.
Results are fast and quickly noticeable, with most results adapting within 30 minutes. The results usually last for around 4 months before a top up is required to help maintain your enhanced look.
There are few side effects caused by fillers mainly being swelling and bruising caused by the needle used. Most clients are able to return to their daily activities following from the treatment.
Blepharoplasty
Droopy eyelids are often a common ageing factor leading to some people considering eye lift surgery. Blepharplasty, sometimes known as an 'eye lift', helps to remove the excess skin, leaving a tighter and more youthful appearance.
Droopy eyelids and puffiness underneath the eyes, is usually caused by a combination of loose skin and protrusion of fat, making eyes look tired and puffy. During the procedure, a small incision is made in the natural folds of your eyelid, helping them to be almost unnoticeable once they have healed.
A Blepharoplasty is extremely long lasting, helping to achieve your desired results. Although it will not stop signs of ageing, it is long lasting and in some clients lasting almost 10 years without another treatment.
Rhinoplasty
Rhinoplasty is a surgical procedure helping to resize or reshape the appearance of your nose. Rhinoplasty is usually a procedure chosen by those with a visible bump on the nose, an enlarged nasal tip or one that is drooping, an off centred or crooked nose or from a personal injury that has made the nose asymmetrical.
An incision is usually made inside your nostrils in order to remove the bone and cartilage. Some of the bone and cartilage will be removed to help reshape and resize to your desired size.
The overall effect may take a few months to adapt and for your new shape to settle.
Facelift
Over time, gravity can take its toll on our skin, leaving our skin to droop, sag and wrinkle. Facelifts are a surgical procedure helping to reduce lines and wrinkles as well as tighten any sagging skin.
A facelift can have some great long lasting effects, giving you a smoother and younger look for longer. Although it will not stop your skin from ageing, facelifts can last for up to ten years, helping it to be one of the longest lasting anti-ageing treatment.
Those who have undergone a facelift have felt a lot more confident and radiant after their surgery. As well as wrinkles being reduced, any signs or sun damage can also be reduced from having undergone a facelift.
Cheek/chin implants
Facial implants are a great way to help enhance and contour your facial features, including your cheeks and chin. Facial implants can help to completely reshape your face, helping to define your features.
Facial implants help to reconstruct your face, adding proportion to where you feel necessary in your face. Mr Aakshay Gulati offers both cheek and chin implants, helping to add plumpness and a more framed silhouette to the face.
The results are relatively quick with a permanent lasting result. Leaving clients to feel more confident and happier with their appearance.
If you are interested in any of the facial aesthetic treatments that Mr Aakshay Gulati offers, then give us a call today on : 020 3101 3050 / 01634 393070 or click here to book in for a consultation.